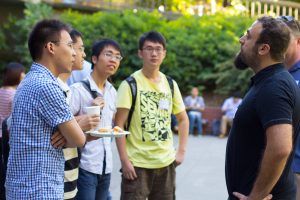 The GREAT Summer Research Program offers the best international students from top international partner universities the opportunity to gain research training in cutting-edge science and technology fields from faculty at the University of California, Davis. GREAT serves as a recruitment pipeline by offering skilled and motivated international students the opportunity to experience UC Davis. As Professor Ken Loh in Civil and Environmental Engineering explains, "I was very impressed with the technical preparedness, dedication to research and excellent communication skills of my student. I see this as an excellent pre-screening and graduate student recruitment mechanism." There are currently 58 GREAT alumni who have been admitted into UC Davis graduate programs.
The heart of the GREAT Summer Research Program is the training students receive in the research laboratories. This training represents a collaboration between faculty and scholars from different countries and backgrounds. In addition, GREAT students contribute to the success of projects in labs across campus. In encouraging cultural discussions in the research lab, GREAT also serves to promote the internationalization of the UC system.
Learn more about how the GREAT Program is preparing the next generation of leaders.