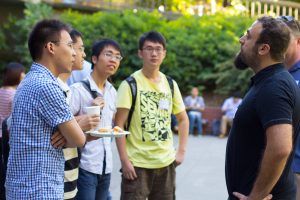 Established in 2010, the Global Research Experience in Advanced Technologies (GREAT) Program, offers high-achieving international students from partner universities the opportunity to gain research training in cutting-edge science and technology fields from faculty at UC Davis. Under the direction of Professor Lijuan (Dawn) Cheng, GREAT serves as a recruitment pipeline by offering skilled and motivated international students the opportunity to experience UC Davis. There are currently 97 GREAT alumni who have been admitted into UC Davis graduate programs.
I was very impressed with the technical preparedness, dedication to research and excellent communication skills of my student. I see this as an excellent pre-screening and graduate student recruitment mechanism." Professor Ken Loh in Civil and Environmental Engineering 
The heart of the GREAT Summer Research Program is the training students receive in the research laboratories, preparing them to be successful graduate students and researchers. In addition, GREAT students contribute to the success of projects in labs across campus and serves to promote the internationalization of the UC system.
A Reputable Program with Long-term Value
Students in the GREAT Summer Research Program work full-time in laboratories under the guidance of faculty members or research scholars, contributing directly to the important research mission of the university. To date, GREAT students have conducted research in more than 34 departments with 137 faculty members. Students also participate in a custom seminar designed to enhance their ability to succeed in a U.S. research institution and learn cross-cultural communication, specialized writing skills, and focused training on research ethics and policies in the United States.
Questions?
For more information about the GREAT Summer Research Program, contact program director Jake Hosier at jhosier@ucdavis.edu.
How UC Davis Faculty Benefit 
Access free, high quality student labor 
Assess graduate program applicants in advance 
Strengthen collaborations with researchers at international partner universities 
Program Partner Network 
We partner with eight leading universities in China and Taiwan. 
National Taiwan University 
Nanjing University
Peking University 
Tsinghua University 
University of Chinese Academy of Sciences
University of Science and Technology of China 
Xi'an Jiaotong University 
Zhejiang University 
Learn more about how the GREAT Program is preparing the next generation of leaders.